V-PORT 半球閥
產品介紹
Product Features
1-PC body design prevents leakage
V-Ball provides large straight pass of fluid with solid particals.
V-Ball with top and bottom bearings offers low torque operation.
Rotary`valve design provides cutting to the particles in fluid between the v- ball and the seat enables the fluid to pass smooth without obstruction.
Spring supported metal seats
Interchangeable soft seats and metal seats satisfy different applications. Seats can be changed easily and directly by simple steps.
Automatic pressure relief design
Nearly equal percentage flow characteristic.
Available in flangeless or flange connection.
Integral mounting pad
Anti-stastic device
Easily removed cap design simplifies the procedure of changing inner parts.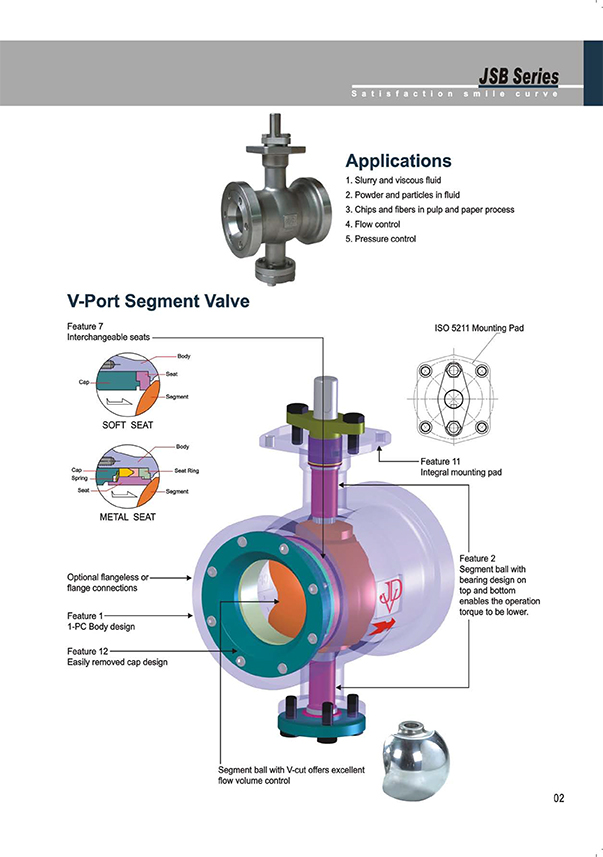 Applicable Standards
Standard in WCB, CF8, CF8M. Special material is available according to requirements.
1" to 12" (DN 25 to DN 300)
JIS 10/20K, ANSI150/300 LB.
Raised face Flange and Flangeless.
Grater than 150:1
 (a) Type: Soft seat:ANSI class VI  (b) Type: Metal seat: ANSI class IV
-20Deg C to 250 Deg C
According to ISA S75.04
Conform to API 607
Technical Specification
NO
NAME
MATERIAL
1
Body
WCB
CF8
CF8M
2-1
SEGMENT-SOFT SEAT
CF8MCF8M
2-2
SEGMENT-METAL SEAT
CF8+HCr
CF8M+HCr
3
STEM
SUS 304
SUS 316
4
SHAFT
SUS 304
SUS 316
5
END COVER
WCB
CF8
CF8M
SOFT SEAT-6A
SEAT
15%R-PTFE
METALSEAT
6B

SEAT SUPPORT

SUS 304
SUS 316
6C
SEAT
SUS 304+STELLITE
SUS 316+STELLITE
6D
PACKING
PTFE/GRAPHITE
6E
SEAT GLAND
SUS 304
SUS316
6F
SPRING
INCONEL X750
7
CAP
CF8
CF8M
8
BOLT
SUS 304
SUS316
9
THRUST BEARING
SUS316+TFE
10
WASHER
PTFE
11
WASHER
SUS 316
12
GLAND PACKING
PTFE/GRAPHITE
13
GLAND
SCS313
14
GLAND BOLT
SUS304
15
SUPPORT
SUS316
16
COVER GASKET
PTFE/GRAPHITE
17
COVER BOLT
SUS304
Notes : HCr = Hard Chrome Plated
Above materials may vary with different using conditions.