METAL SEAT球塞閥
產品介紹
Highly precise machining enables the ball and seats to touch tightly offering the superior shut-off.
Spring-loaded seats keeps close contact with the ball ensuring tight sealing even at low pressure condition. This makes the valve keep stable opening and closing torques under the high differential pressure environment.
Fire Safe Design conforms to API 607 4th Edition
Selective material for different service applications.
Hard face treatment on ball and seats provides longer life cycle in severe environment.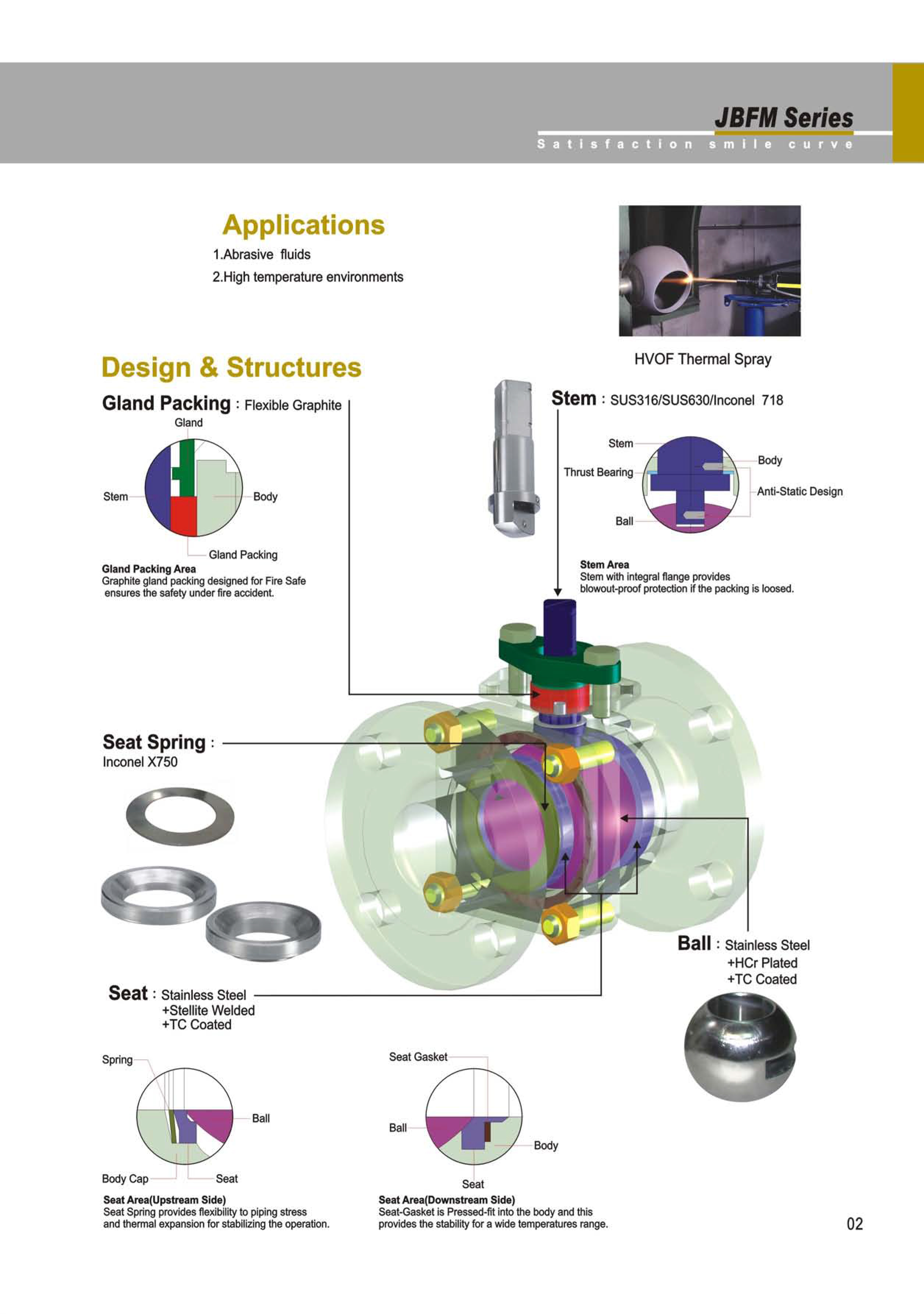 Applicable Standards

Standard in WCB, CF8, CF8M Special material is available according to requirements.

1/2" to 8" (DN15 to DN200)
JIS 10/20/40K
ANSI 150/300/600LB
DIN PN10/16/25/40

Raised face flange

-29 Deg C to 500 Deg C

Face-To-Face Dimensions :

JIS B2002 / ANSI B16.10
JIS B2238/ ANSI B16.5
IS B2003 / ANSI B16.34 / API 598

ANSI B16.104/FCI70-2 CLASS V

MSS SP-61 / MSS-SP-25 / MSS-SP-55
Technical Specification MATERIAL
NO
TEMPERATURE
SM
SH
-29Deg C ~ 350Deg C
-29Deg C ~ 425Deg C
-29Deg C ~ 500Deg C
1
Body
WCB
CF8
CF8M
WCB
CF8
CF8M
2
CAP
WCB
CF8
CF8M
WCB
CF8
CF8M
3
BALL
CF8/CF8M+HCr
CF8/CF8M+TC
4
SEAT
SUS304/SUS316 + STELLITE
5
SEAT GASKET
GRAPHITE
6
SEAT SPRING
INCONEL X750
7
BODY GASKET
SUS316 + GRAPHITE
8

JOINT BOLT & NUT

B7 & 2H
B8 & 8
B7 & 2H
B8 &8
9
THRUST WASHER
STAINLESS STEEL
10
GLAND PACKING
FLEXIBLE GRAPHITE
11
STEM
SUS316/SUS630
INCONEL 718
12
GLAND
SUS304
13
GLAND BOLT
SUS304
Notes : HCr = Hard Chrome Plated / TC = Tungsten Carbide Coated
Above materials may vary with different using conditions.